Supporting Learners
At St Fergus we are fortunate enough to have pupils with a wide variety of talents and skills. It is our aim to develop and nurture those skills and to support all pupils to achieve their very best regardless of any barriers to learning they may have.
Throughout the school we strive for an inclusive model of practise and have created a setting where universal supports are part of everyday classroom life thus ensuring children are   more likely to succeed within their mainstream setting.
What Support looks like in St Fergus
Enhanced Support Area (ESA)
This is a space where a range of small group provisions run daily to support and enhance the learning experience of all pupils regardless of their additional need.
Supporting Learners in classrooms
Our team of experienced and knowledgeable Learning and Care Assistants (LCA's) and Primary and Early Years Support Assistants (PEYSA's) often support pupils within their mainstream classrooms in small groups.
Supporting Learners Teachers
Our Support for Learning teachers might work alongside class teachers in the classroom, take small groups out or work with pupils on an individual basis.
All of the above are short term interventions which are reviewed regularly to ensure pupils are being supported and challenged at the right times throughout their educational journey.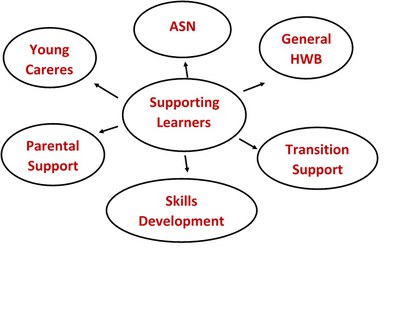 Meet our Supporting Learners Team:
Mrs C. Smith: Principal Teacher Supporting Learners
Mrs N. McDonagh: Supporting Learners Teacher
Miss J. Gunning: Supporting  Learners Teacher
Miss P. Clancy: Senior Learning and Care Assistant
Miss A. Smith: Learning and Care Assistant
Miss A. Mulholland: Learning and Care Assistant
Mr S. Rennie: Learning and Care Assistant
Useful links
Accessibility and Inclusion Service: https://www.dundeecity.gov.uk/sites/default/files/ais_info.pdf
National Autistic Society: https://www.autism.org.uk/
Scottish Autism: https://www.scottishautism.org/
Dundee and Angus ADHD Support: https://www.adhddasupport.org/
Young Minds: https://youngminds.org.uk/
CAMHS: https://www.nhstayside.scot.nhs.uk/OurServicesA-Z/CAMHS/index.htm
Occupational Therapy: https://www.nhstayside.scot.nhs.uk/OurServicesAZ/ChildrenandYoungPeoplesOTService/index.htm
Speech and Language Dundee: https://www.nhstayside.scot.nhs.uk/OurServicesA-Z/ChildrenandYoungPeoplesSpeechandLanguageTherapy/index.htm
Young Carers: https://dundeecarerscentre.org.uk/